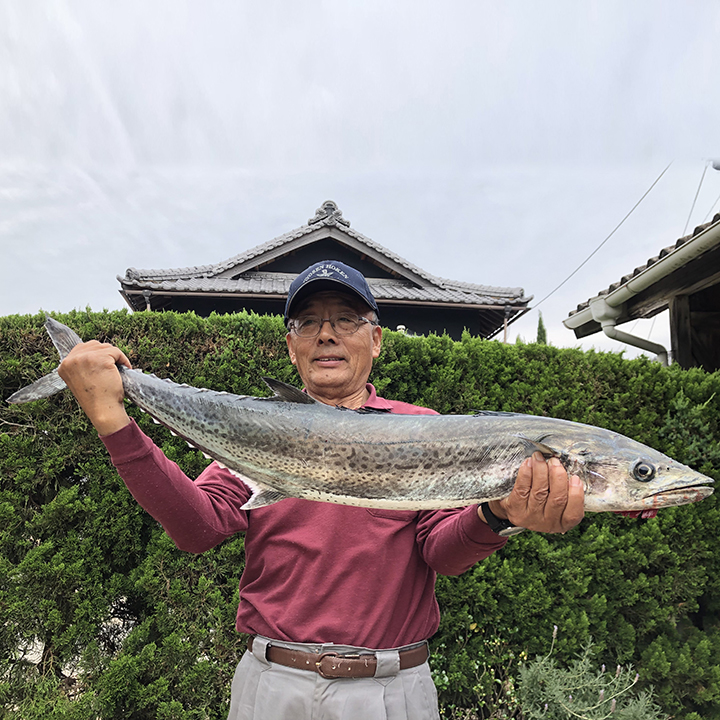 [Spanish mackerel] SAWARA
It is caught by trolling fishing off the coast of Teshima. Sawara is a season's fish, and it is said to signal the arrival of spring in Teshima. It is a fish similar to Barracuda, with sharp teeth. It is a fish that has been eaten in Setouchi for a long time, but in recent years it has also been caught in the Sea of ​​Japan.
There are several ways to eat sawara, sashimi, grilled with salt, and grilled fish soaked in miso. Sashimi cannot be eaten unless it is fresh and is said to be as delicious as tuna.
In Kyoto and other places, Spanish mackerel soaked in miso is a tradition and this process is done to preserve the fish.
Supplier→ Fishing boat Hamanaka-maru 遊漁船浜中丸
【鰆】SAWARA
豊島の沖で、トローリング漁で捕れます。春が旬の魚で、豊島に春の到来を告げる魚とされています。バラクーダに似た魚で、鋭い歯のある魚です。瀬戸内では古くから食べられる魚ですが、近年は日本海でも捕れるようになりました。
食べ方は、刺身、塩焼き、味噌漬けにしたものを焼いて食べます。特に刺身は新鮮でないと食べられません。刺身は、マグロのトロのように美味しいです。
京都などでは、鰆の味噌漬けが好んで食べられますが、これは保存のために味噌漬けに加工されています。刺身で食べられるのは漁場の側だけに限られています。