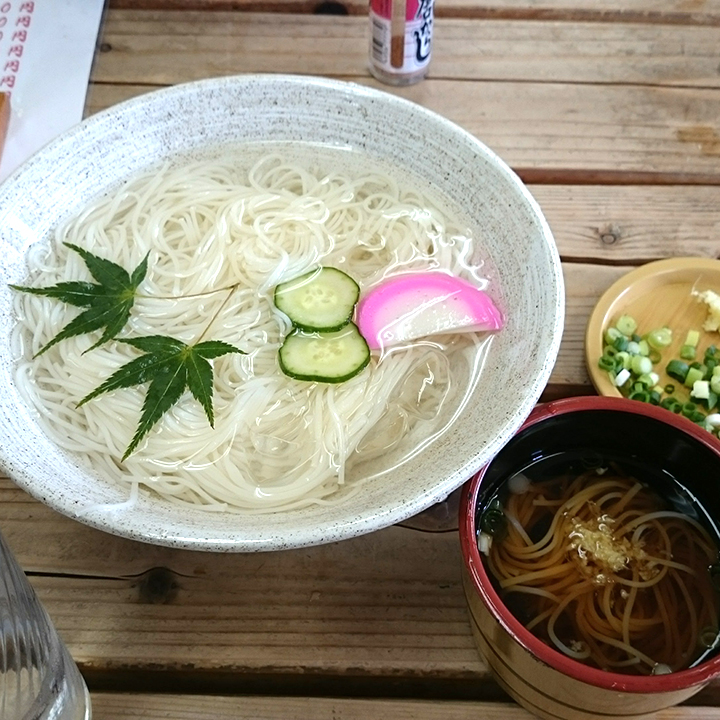 [Somen noodles] SOHMEN
There are various types of noodles in Japan, but the thinnest noodles are somen noodles. Somen noodles are made by kneading wheat flour and rolling it into thin pieces. There is a noodle factory in Teshima, but the noodles in the neighboring Shodoshima are famous all over the country. Somen noodles in this area are more chewy than noodles in other areas.
The way to eat it is to cool the noodles once boiled and eat them with tentsuyu made from soy sauce, soup stock and sugar. Sometimes, it is eaten in miso soup.
Supplier→ Shodoshima Somen Union 小豆島手延素麺協同組合
【素麺】SOHMEN
日本ではいろんなタイプの麺がありますが、一番細い麺が素麺です。素麺は小麦粉こねて、細く延ばして作ります。豊島でも素麺工場がありますが、隣の小豆島の素麺が全国的にも有名です。この地域の素麺は他の地域の麺に比べて腰があります。
食べ方は、一度茹でたものを冷水で冷やして、醤油と出汁、砂糖でつくった天つゆで食べるのが一般的ですが、味噌汁などに入れて食べる場合もあります。