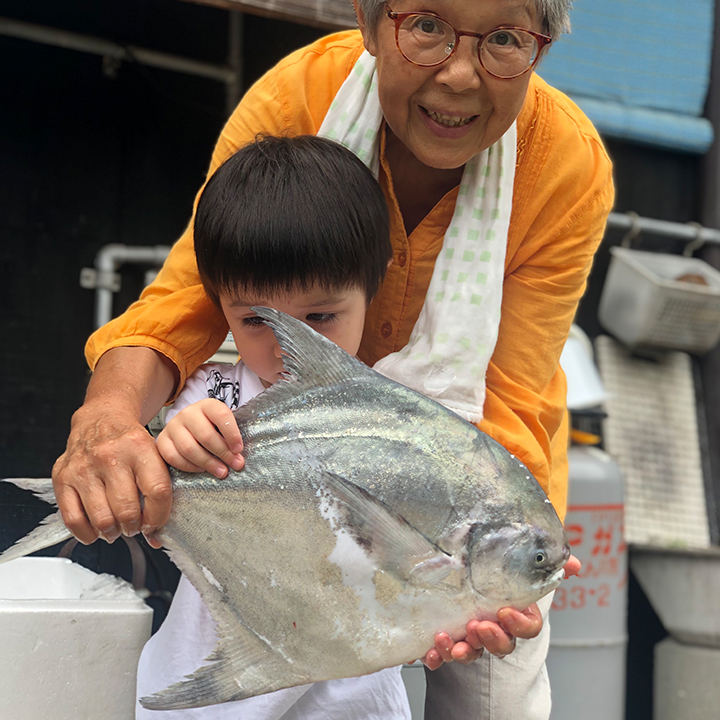 [Silver pomfret] MANAGATUO
Silver pomfret is a fish that is distributed from the Indian Ocean, the Yellow Sea, the Persian Gulf to the Asian seas, and is a member of the sea bass. It is a migratory fish that seems to come to the Seto Inland Sea from late June to early September. It is a high-class fish and it is hard to land on the island, so we buy it from a fisherman on Shodoshima, the neighboring island.
Fresh fish can be eaten as sashimi, but it is a fatty fish that is delicious when grilled with salt or boiled.
It is a square-shaped fish that is rare in Japan.
Supplier→ Shikai fishing port 四海漁港
【マナガツオ】MANAGATUO
マナガツオは、インド洋、黄海、ペルシャ湾からアジアの海に分布している魚で、スズキの仲間です。回遊魚で、6月下旬から9月上旬に瀬戸内海に来るようです。高級魚で島ではなかなか水揚げがなく、隣の島の小豆島の漁師から買い付けます。
新鮮なものは刺身でも食べれますが、脂ののった身で、塩焼きや、煮付けにすると美味しい魚です。
四角い形をした、日本では珍しい魚です。