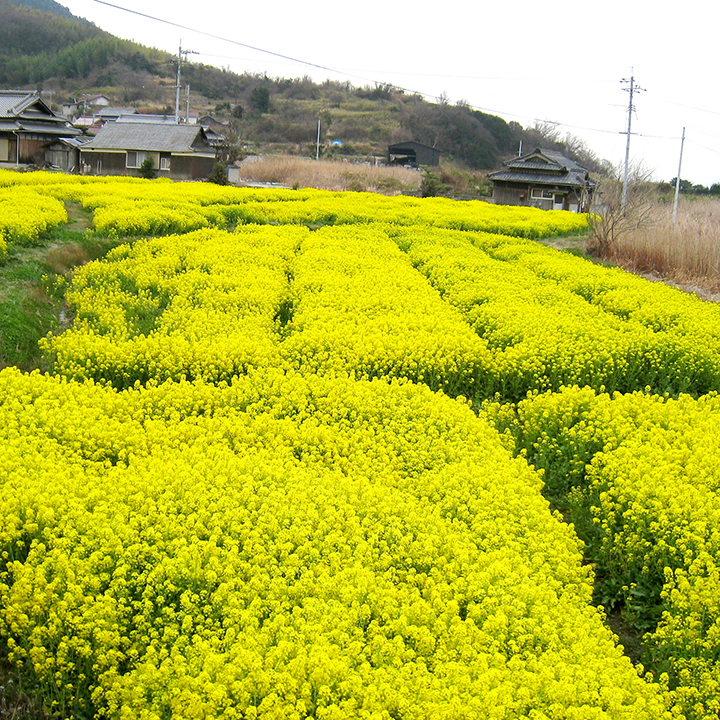 [Rape blossoms] NABANA
Rape blossoms (Nabana, Nanohana) is a general term for flowers of the Brassicaceae genus Brassica. Oilseed rape is especially cultivated for the purpose of enjoying yellow flowers and squeezing oil. In addition, vegetables that generally eat leaves, such as rapeseed, turnip, Chinese cabbage, cabbage, broccoli, mustard, and zha cai, are also eaten as rape blossoms. Even in Teshima, we eat various vegetables such as rape blossoms for a long time from winter to spring. Also, from April to May in spring, rape blossoms bloom all over the island and you can see a yellow flower field.
It is usually boiled and eaten with dried bonito and soy sauce, but it may also be used as an ingredient in hot pot dishes.
Supplier→ Rape field 菜の花畑
【菜花】NABANA
菜花(なばな)、菜の花(なのはな)は、アブラナ科アブラナ属の花の総称です。特に黄色い花を楽しんだり、油を絞る目的で栽培されるのが、アブラナまたはセイヨウアブラナで、その他、ナタネ、カブ、ハクサイ、キャベツ、ブロッコリー、カラシナ、ザーサイなど、一般的に葉っぱを食べる野菜が、塔立ちしたものも菜花と言い、花が咲く直前に食べます。豊島でも冬から春にかけて長い期間、さまざまな野菜の菜花を食べます。また、春4~5月は、菜の花が島中で咲き、黄色いお花畑が見られます。
食べ方は、茹でて、鰹節と醤油で食べるのが一般的ですが、鍋料理の具とする場合もあります。