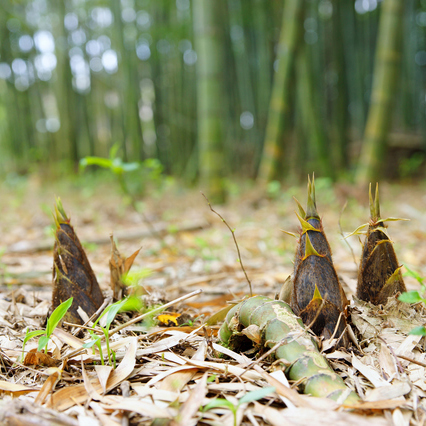 [Bamboo shoot] TAKENOKO
Bamboo shoots are young bamboo. Bamboo grows up to about 20m, but it is not a tree but a gramineous plant, and many types of bamboo grow naturally in Teshima. Because it is a member of the grass, it grows very quickly, and bamboo shoots grow 20 to 30 cm in a day or two. Early spring is the season for bamboo shoots. During this time, we dig up and eat bamboo shoots so that they do not grow too much. Very young bamboo shoots are also eaten as sashimi, but large bamboo shoots have a stronger lye and are generally eaten as simmered dishes or tempura.
It is a healthy food with abundant dietary fiber and a lot of vitamins.
Supplier→ Bamboo forest 竹林
【タケノコ】TAKENOKO
タケノコは竹の若い芽です。竹は成長すると20mほどにもなりますが、木ではなくイネ科の植物で、豊島でも多くの種類の竹が自生しています。草の仲間のため、とても成長が早く、タケノコも1日や2日で20~30cm成長します。春を早春がタケノコの旬です。この時期はタケノコの若芽を見逃さないように、掘り起こして食べます。極若いタケノコは、刺身でも食べますが、大きなタケノコになるとあくが強くなり、一般的には煮物や天ぷらにして食べます。
食物繊維が豊富でビタミンも多く含まれ、健康食です。