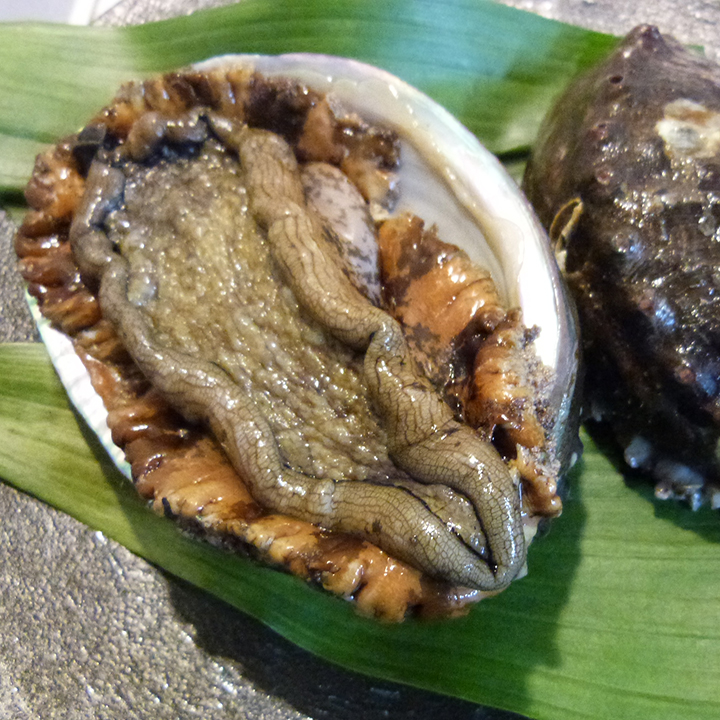 [Abalone] AWABI
Abalone is synonymous with high-class shellfish. It is a single shellfish of about 10 to 15 cm, and it is a popular ingredient for sushi.
Since fishermen have a hard time catching skin diving, many are not caught, and although it is a very luxurious ingredient in urban restaurants, it is bought directly from fishermen on the island.
It is caught all year round in Teshima, but the best time is when the shellfish eat delicious seaweed in the summer. The recommended way to eat it is mainly Sashimi or Grilled with butter. Sashimi has a nice crunchy texture. You can enjoy a soft and different texture when grilled with butter.
Supplier→ Shellfish fishing ground 貝類漁場
【あわび】AWABI
アワビは高級な貝の代名詞です。10~15cmほどの一枚貝で、身の締まった、寿司にしても人気のある食材です。
漁師が苦労して素潜りで捕るので、多くは捕れず、都会の料理店ではとても贅沢な食材ですが、島では漁師さんから直接買い付けます。
豊島では年中捕れますが、夏の美味しい海藻を食べた頃が最も美味しい時期です。食べ方は、主に刺身か、バター焼きがおすすめです。刺身はコリコリとした食感が良く。バター焼きにすると柔らかく違った食感が楽しめます。