Introducing the fun of the sea in Teshima through fishing experience and sea drive
釣り体験、海のドライブ、豊島の海の楽しさを紹介する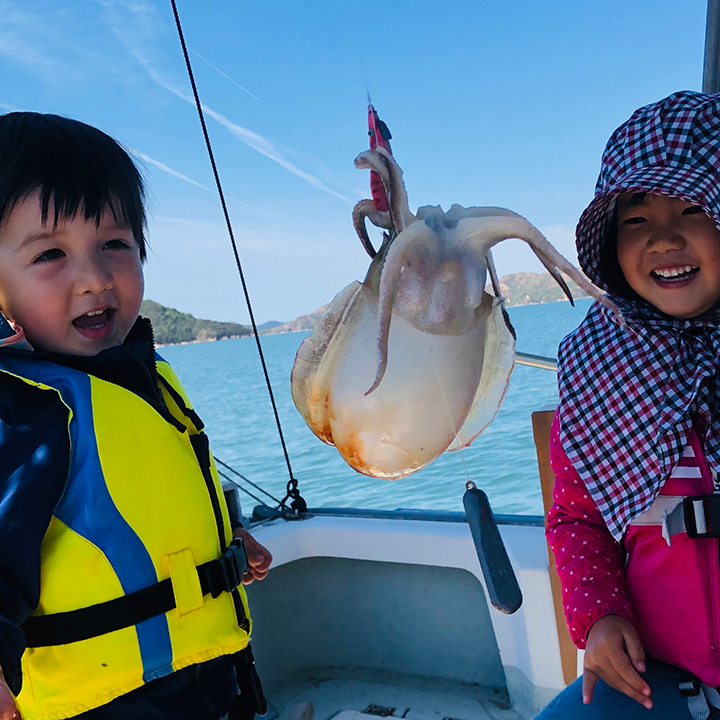 There are many rocky shores and seaweed beds around Teshima, and it is a rich fishing ground where many fish can be caught throughout the four seasons due to the complex tidal currents that change with the seasons.
"Fishing boat Hamanaka Maru" is a sightseeing fishing boat operated by a local fisherman Hamanaka.
Mr. Hamanaka catches seasonal fish such as spring mackerel, summer tanago, autumn crab, and winter puffer fish. He sells these to private lodgings and local dining, as well as to customers who have stayed at private lodgings by mail order.In addition, the fishing boat business can also experience fishing and vertical fishing by making reservations. We also bring the caught fish to a private lodgings for cooking and provide guidance on how to handle the fish.
Not only fishing and fishing experience, but also Teshima tour seen from the sea is supported. Why don't you enjoy the spectacular view of Teshima from the boat?
Departure and arrival at Ieura Port (1-4 people) 2 hours 10,000 yen
豊島周辺は磯や藻場が多く、季節によっても変化する複雑な潮流により、四季を通じて数多くの魚が釣れる豊かな漁場です。
 「遊漁船 浜中丸」は地元の漁師である浜中さんが運営する観光釣り船です。
 春の鰆、夏のタナゴ、秋のカニ、冬のフグなど、旬の魚を捕り、民泊や地域の食堂に販売するほか、通販で、これまで民泊に泊まったことのあるお客さんに販売しています。また、遊漁船営業も、予約に対応して、釣りや、たてあみ漁を体験することができます。釣り上げた魚を民泊に持ち込んで調理したり、魚をさばく指導も行っています。
釣りや漁の体験だけでなく、海から見る豊島ツアーにも対応しています。船から見る豊島の絶景を楽しんでみませんか?
家浦港発着(1~4名様)2時間1万円